What You Should Know About Diamond Shapes
You might hear shape and cut used interchangeably, but they're actually two distinct terms that refer to different things. The diamond's shape is the actual outline of the stone as it appears to the naked eye.
It's the defining characteristic of a diamond since it's the one that's first noticed. It gives the diamond its personality and often drives other decisions behind an engagement ring's final design.

For instance, some shapes work best in certain settings while others are more versatile. The shape can determine which diamond characteristics you prioritize—cut, color or clarity—and how much eye-catching sparkle your engagement ring gives off. 
Some people have a clear idea of the shape they prefer best. Others may need more initial guidance. However, you're currently feeling, our guide below will help you decide which diamond shape is ultimately the right one for you.
Round
With fifty-eight facets reflecting light, our most popular shape is unmatched in brilliance. The iconic round was perfected over the centuries for a breathtaking sparkle in any setting. For this reason, this shape is adored for its versatility. The round shines on its own in a solitaire setting, steals the show when surrounded by a pavé halo and is utter perfection when joined by two additional stones in a three-stone setting. Regardless of what you choose, the round is a classic shape and sets the ultimate standard for sparkle and fire.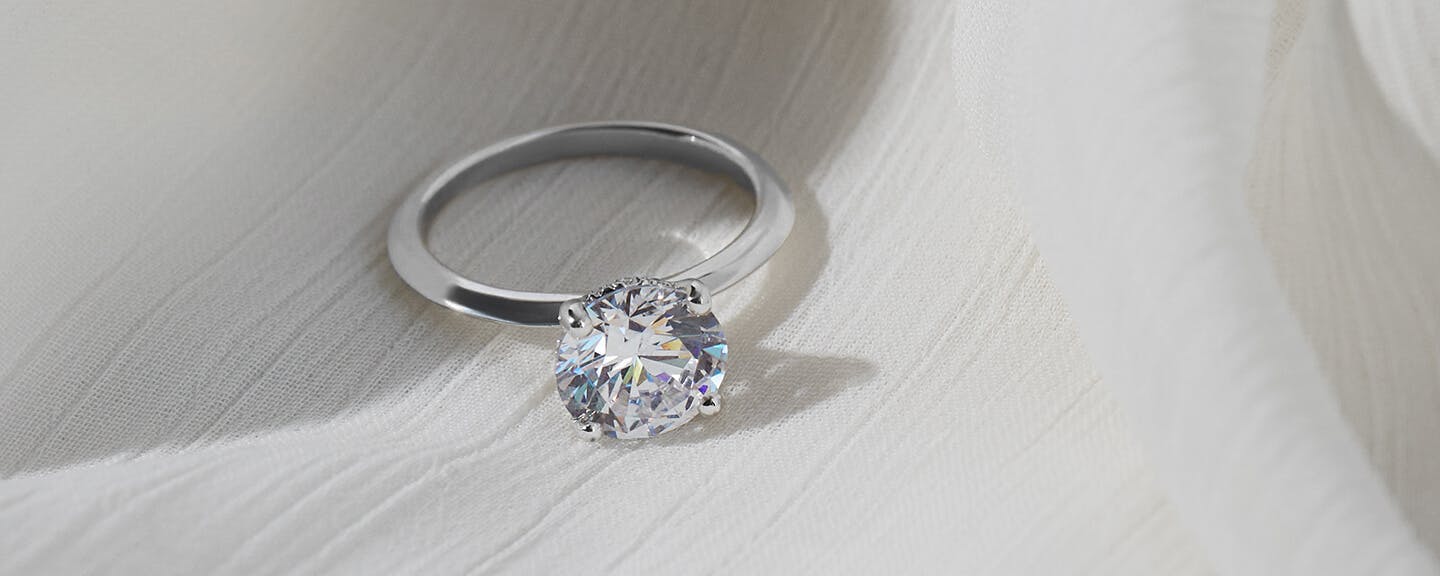 Princess
This modern shape is a contemporary alternative to the classic round and delivers scintillating sparkle from every angle. A princess diamond is cut with a combination of both step and brilliant-cut facets, allowing light to flood its signature square shape and dazzle with brilliance. It's beautifully complemented by almost every setting, from an elegant solitaire to an ornate vintage setting. When chosen for an engagement ring, the princess is sure to please and impress.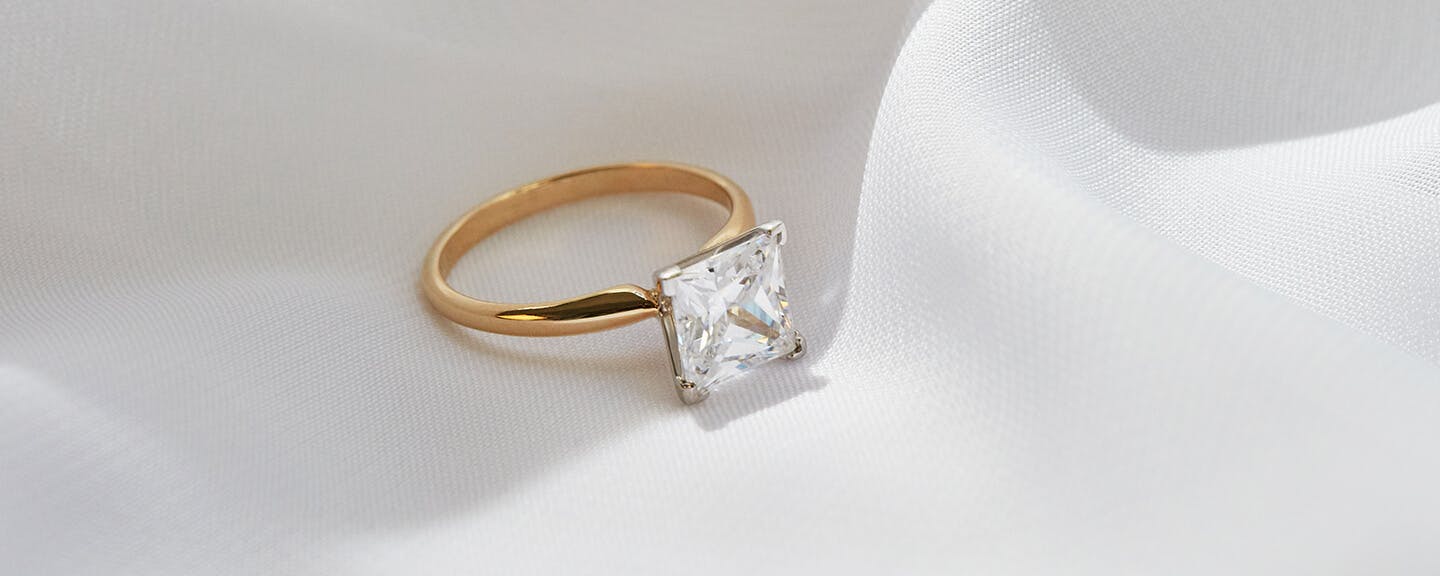 Emerald
With its clean, crisp lines, this geometric shape exudes both 1920s glamour and modern sophistication. The emerald is known for its rectangular shape with long, step-cut facets, making it ideal for diamonds with a high grade of clarity. Compared to the brilliant-cut stones, an emerald-shaped diamond won't have the same amount of sparkle, but it will undoubtedly impress with its clear, glassy, smooth top. For that reason, it's a favorite among Art Deco fans and is often seen in vintage-inspired settings. An emerald-shaped diamond is also striking as a solitaire and makes an unexpected, bold statement in a three-stone setting. It's clear why this shape is forever one of the most sought after.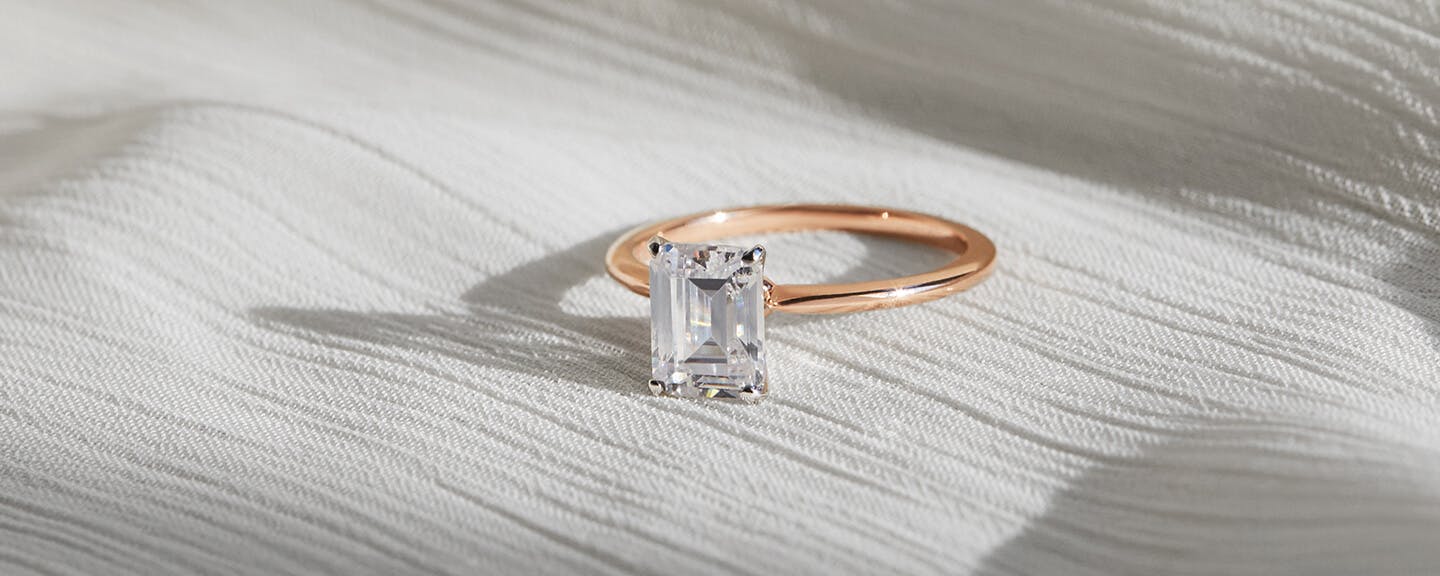 Cushion
Undeniably romantic with its soft corners and glamorous sparkle, cushion-shaped diamonds instantly evoke a sense of old-world elegance. This shape is perfect for vintage-inspired looks, though it dazzles on its own in a solitaire setting or when surrounded by a halo of pavé stones. Because of its extra facets, every cushion-shaped diamond sparkles radiantly, making it a favorite among those who desire a bold look. The cushion is truly a blend of both worlds with a hint of nostalgia but updated brilliance and flair.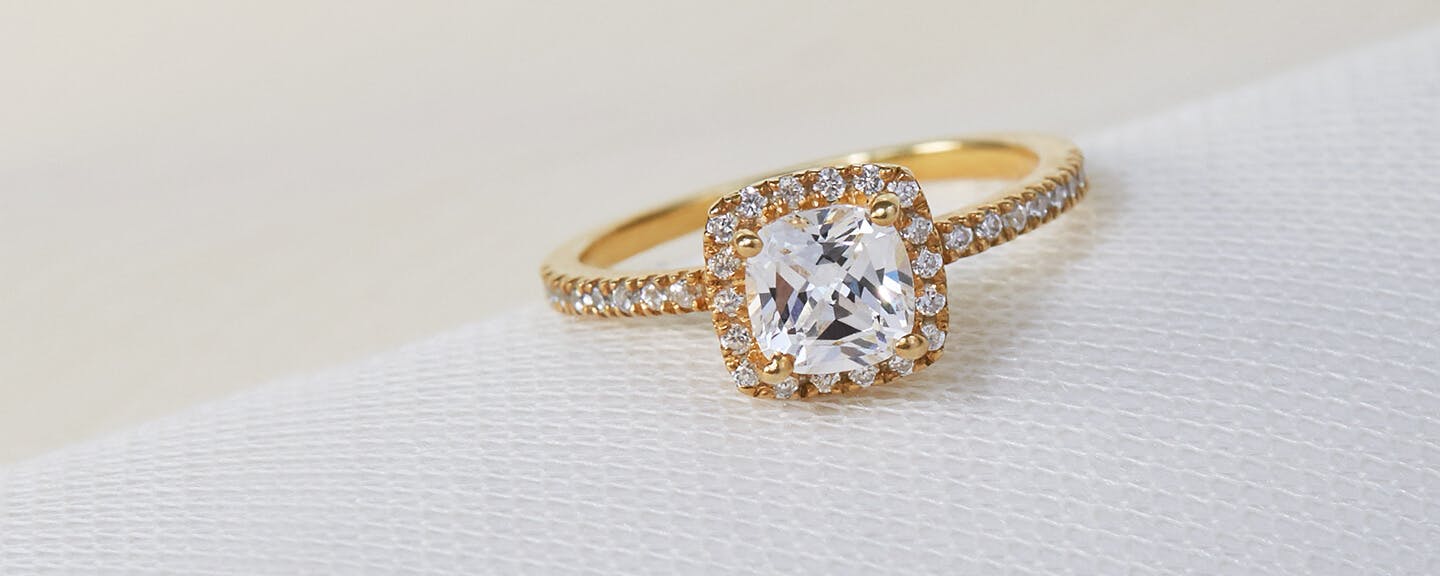 Oval
Much like round diamonds, oval-shaped stones are incredibly versatile. Captivating alone on an unadorned band, set among other diamonds in a three-stone setting or shining brilliantly among a halo of smaller accent stones, this shape gives engagement rings an unconventional, unique look. You wouldn't be alone in admiring the oval's dreamy, feminine shape; influencers have been spotted wearing oval-shaped diamonds recently, and it's quickly become a go-to for engagement rings. With 58 facets, it sparkles magnificently and demands to be noticed. Additionally, an oval often appears larger than it is due to its elongated shape which makes it even more eye-catching.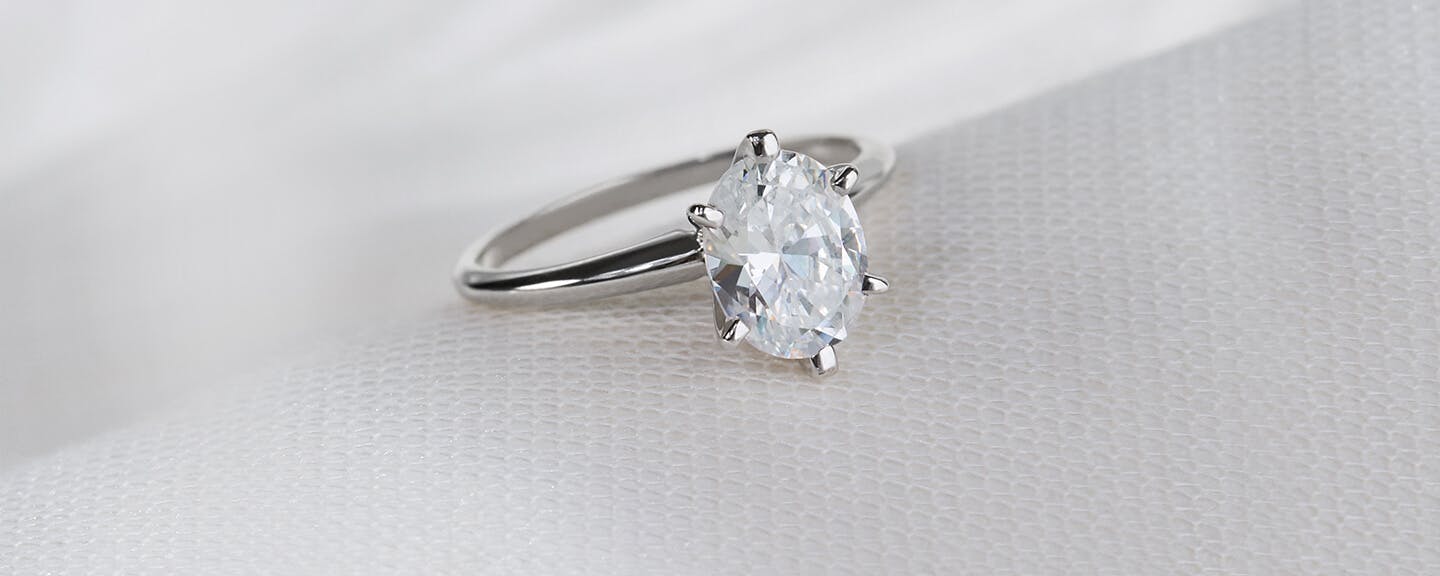 Pear
Skyrocketing in popularity, the pear has become a rising favorite among tastemakers for its flattering, elongated shape and superb sparkle. Featuring a rounded edge that tapers to a point, the pear is best described as a cross between a marquise and round. It's an excellent choice for a wide range of settings, appearing timeless on a minimalist band or ultra dramatic when embellished with a pavé halo. Pear-shaped diamonds are limitless, designed to pop with flashes of brilliance in just about any setting you choose.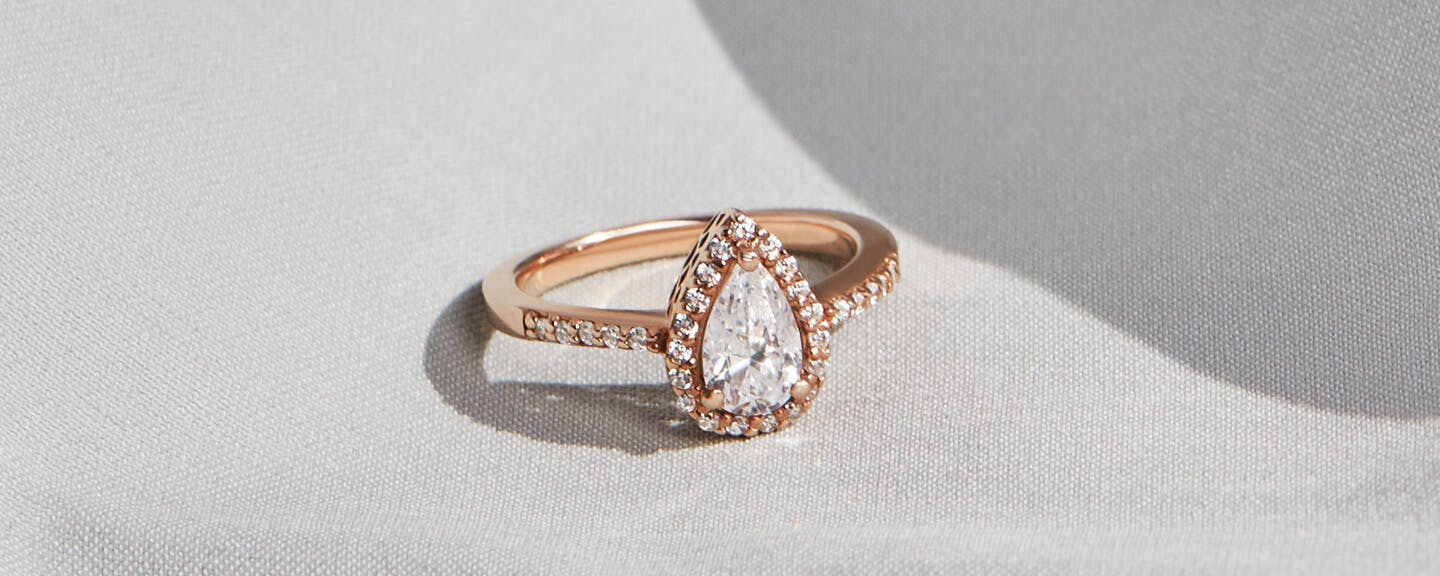 Asscher
This distinctive shape brings the drama with its square-cut, cropped corners, and show-stopping brilliance. The Asscher appears nearly octagonal, making it quite an unconventional shape. It was most popular during the Art Deco era. Now, it's the number one choice for those who yearn for luxurious, vintage-inspired engagement ring. Because of its high number of facets, the Asscher promises dynamic sparkle and will shine in many different settings, from a classic setting to a three-stone arrangement. An Asscher-shaped diamond will definitely bring its one-of-a-kind beauty to your engagement ring.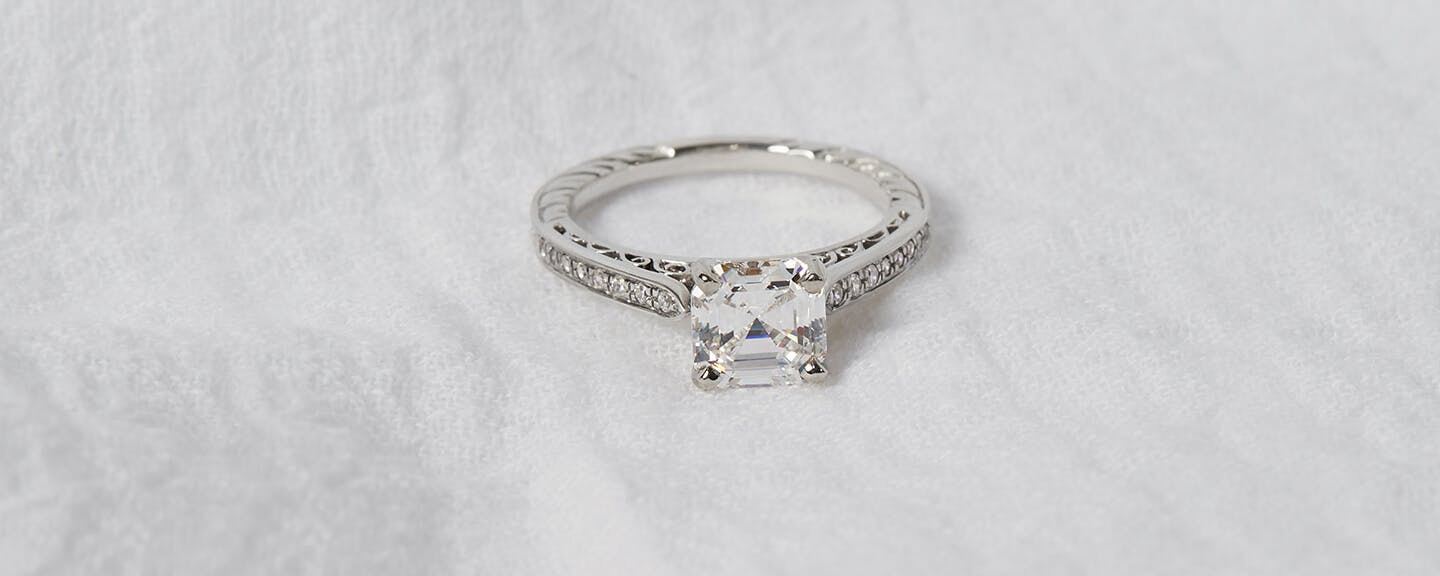 Marquise
The marquise is one of the most unusual and unexpected shapes with a royal history. It was inspired by the Marquise de Pompadour, Louis XIV's paramour. The king requested a diamond carved to match the graceful curve of her smile, and thus, this sensational shape came into being. Each marquise stone is elongated with pointed ends which can make diamonds appear larger. It's most often seen in contemporary designs, set vertically in a solitaire setting, though it can take on an eccentric yet refined personality when set horizontally. Whichever orientation you choose for your engagement ring, the marquise will sparkle wondrously with its 58 facets ricocheting light from all angles.
Heart
The sweetest, most romantic of all shapes, the heart is the ultimate symbol of everlasting love. It's a bold yet whimsical shape, most often seen in solitaire or classic settings. This shape is recommended only for stones over one carat in size, as smaller diamonds are harder to craft into the heart's signature shape. Symmetry is of utmost importance; it's imperative that the two halves of the heart are identical, otherwise, it will look lopsided and off. The heart should come to a very sharp, distinct point to differentiate it further. Choose a heart-shaped diamond, and give the truest symbol of love and affection.
Radiant
Perhaps no other diamond is as vibrant and lively as the radiant. With seventy facets designed for extraordinary sparkle, the newest rectangular shape is impossible to ignore. Due to this unique design, this shape does require more carat weight in the depth to maximize brilliance. When it's achieved, a radiant-shaped diamond catches light and glitters like none other. For those who love the geometric angles of an emerald-shaped diamond, but long for the exquisite sparkle of a round, the radiant is assuredly the answer.