Engagement Ring Style Guide
When it comes to ring styles, it may seem like there are endless options. How are you to choose? The good news is that there's no wrong answer.
Because the truth is that every setting has its strengths, and it simply comes down to a matter of personal taste. Everyone has their own preference, and the more people you ask, the more answers you'll get. It might seem like an impossible decision, but we'll do our best to explain several of the most popular settings below. 

The most important things to keep in mind, in addition to your budget, is personal style and taste. At the end of the day, choosing an engagement ring style is much like choosing a life partner—it's a decision based on gut instinct and emotion. So ask yourself, "How does this ring make me feel?" The one that gives you goosebumps, makes you smile, elicits a gasp or gives you that feeling of, "I just know" is probably the right one for you.
If you're shopping for someone special, you can always refer to their Instagram or Pinterest accounts to see if they have their eye on a particular style. Perhaps you've been window shopping with them and know what catches their eye. With these hints in mind, you'll choose the setting that they'll be thrilled to receive—and you'll be proud to give. 
Solitaire
When it comes to showing off a brilliant singular stone, the solitaire reigns supreme. Without other stones or design elements to distract, the diamond captures the viewer's full attention. Because of this, a high-quality diamond is essential. 
The simplicity and minimalist beauty of the solitaire is beloved by many, making it the most popular ring setting styles. Its unadorned band compliments every diamond shape, so the stone's true personality shines brightly. The delicate, unobtrusive prong setting allows maximum light to stream through the diamond, allowing the stone to sparkle most brilliantly. 
Whether you choose white gold, yellow gold or rose gold, a solitaire ring is timeless. Its style is sure to be as enduring as the union it celebrates.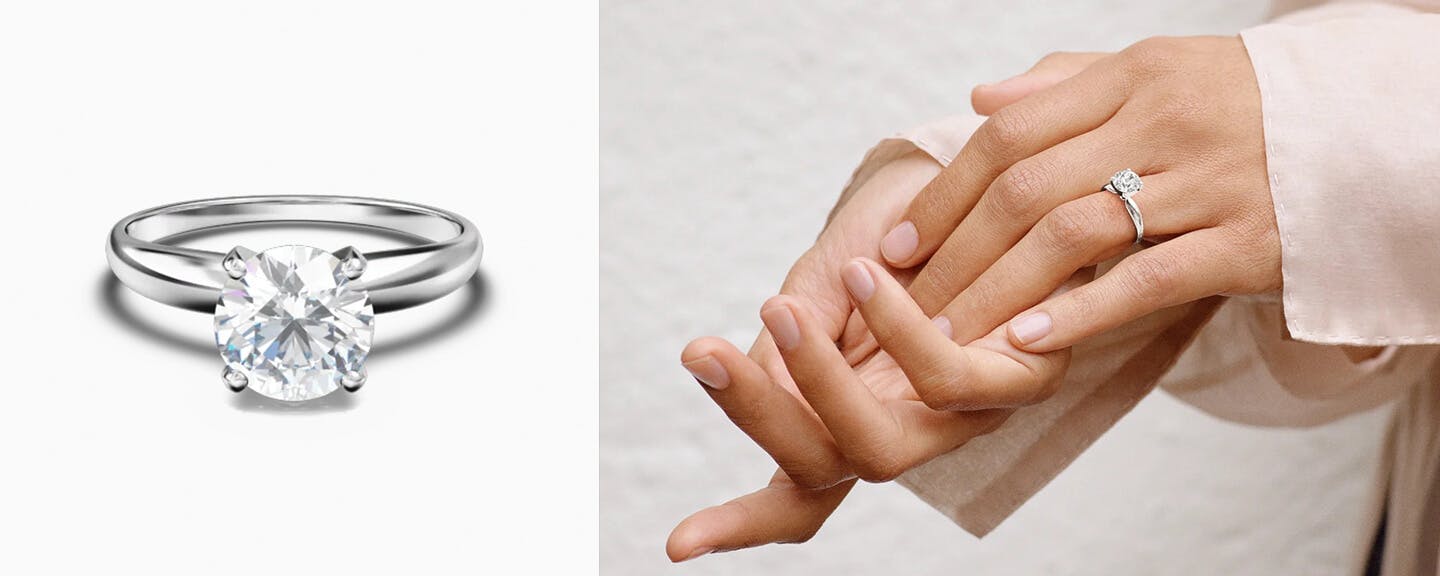 Classic
A classic setting is essentially an upgraded solitaire setting. The center stone is still very much the main attraction, but additional accent stones on the band enhance the sparkle. Classic settings are in high demand because of this dazzling combination. The refined simplicity of a solitaire with an extra dose of glamour is extremely compelling—and versatile. Diamonds of all shapes captivate in classic settings. The number of bands can vary, too. You'll find one to three bands intertwined, twisted, woven or laid flat to create a range of gorgeous options. Classic for a reason, these engagement rings remain enviable throughout the years.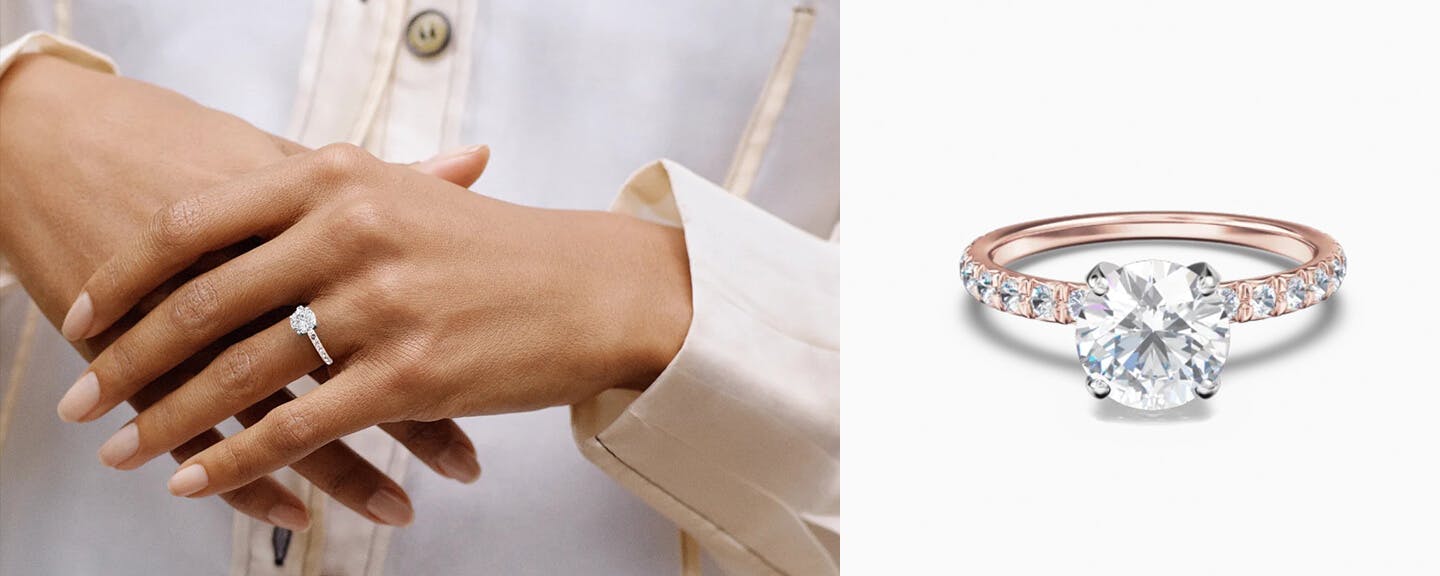 Cathedral
Another popular engagement ring style is the cathedral setting. The diamond is elevated off the band by graceful arches, mimicking architecture of an actual cathedral building. This allows additional light to enter the diamond, creating even more opportunity for 
brilliance and sparkle. Because of the stone's height, the diamond is featured even more predominantly, guaranteeing an eye-catching engagement ring. In turn, this style can make smaller stones appear larger than they actually are.
While the cathedral arch brings added interest to a solitaire setting, it can also be used to enhance halo, three-stone setting and vintage style rings. You can bring even more customization and personality to a cathedral setting with subtle embellishments, like additional stones or intricate metal work, revealed only when given a closer look. 
Design options for the cathedral may seem dizzying, but whatever you choose, this setting promises stunning sparkle and shine.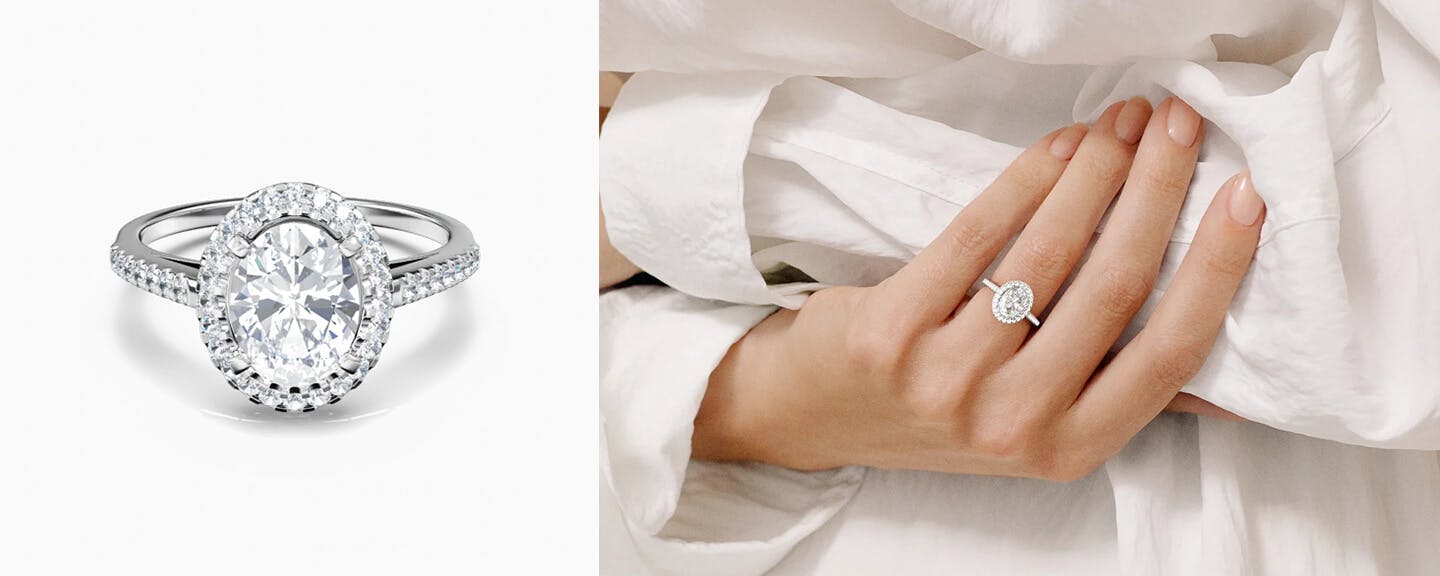 Halo
Halo engagement rings always dazzle. This design features a center stone that's encircled by pavé, or micropavé, of smaller accent stones. Some halo settings feature two concentric circles around the center diamond, adding even more shimmering sparkle. In every case, these halos call attention back to the center stone and create the illusion of an even larger diamond. 
There are several diamond shapes that are beautifully suited for a halo setting. A round diamond haloed by smaller round stones is famously a favorite. But look beyond that enduring combination, and you'll see there's plenty of room to play. Explore how a pear or oval shape come alive with a sparkling halo. With white gold, yellow gold or rose gold to choose from, there are endless possibilities to create something truly breathtaking.
It's no wonder halo rings have become the modern classic. They make a bold statement while remaining true to tradition. And yours is sure to become a treasured symbol of love and, undoubtedly, an heirloom.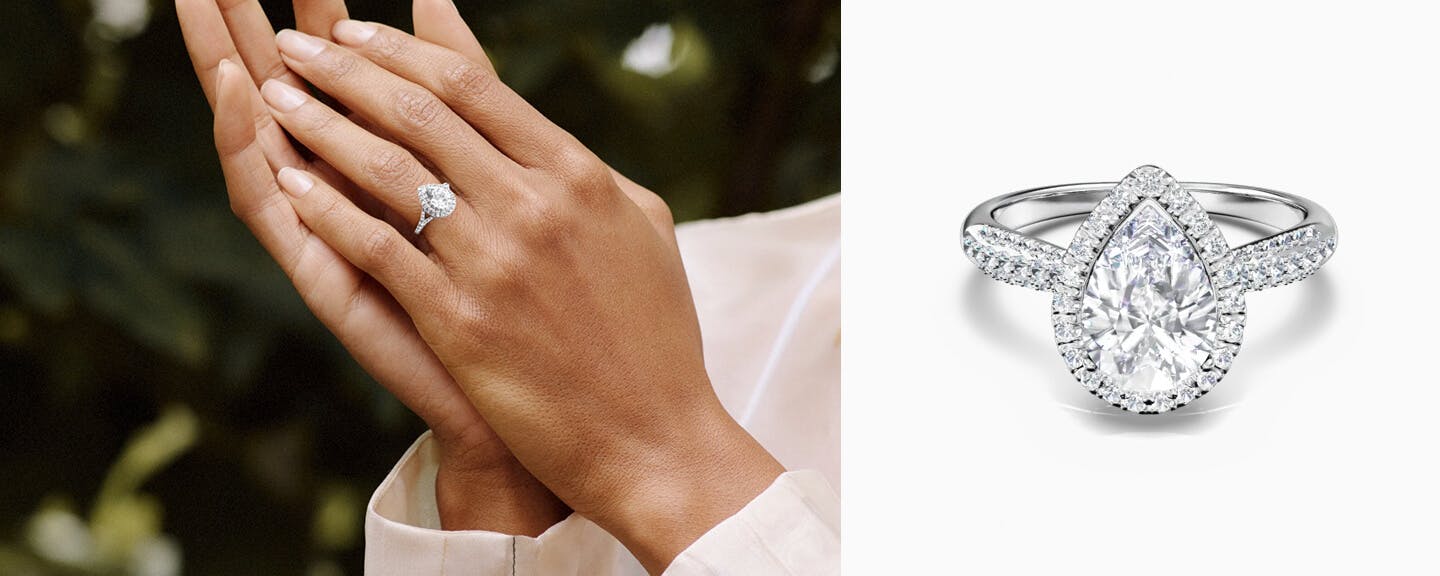 Vintage
Vintage settings marry the design details of bygone eras, such as the Edwardian, Victorian or Art Deco time periods, with the brilliance and beauty of a modern center stone. These nostalgic settings often include intricate details of milgain or filigree to create elaborate, feminine styles. Or, if they're inspired by the geometric expressions of Art Deco architecture, you'll find stunning symmetrical designs with clean, crisp parallel lines. 
Regardless of the time period they were inspired by, vintage settings bring an artistic flair to the exquisite diamond you've chosen—and won't inhibit its ability to sparkle. Your ring will harken back to a more romantic time, but will be crafted with the precision of today's highest standards.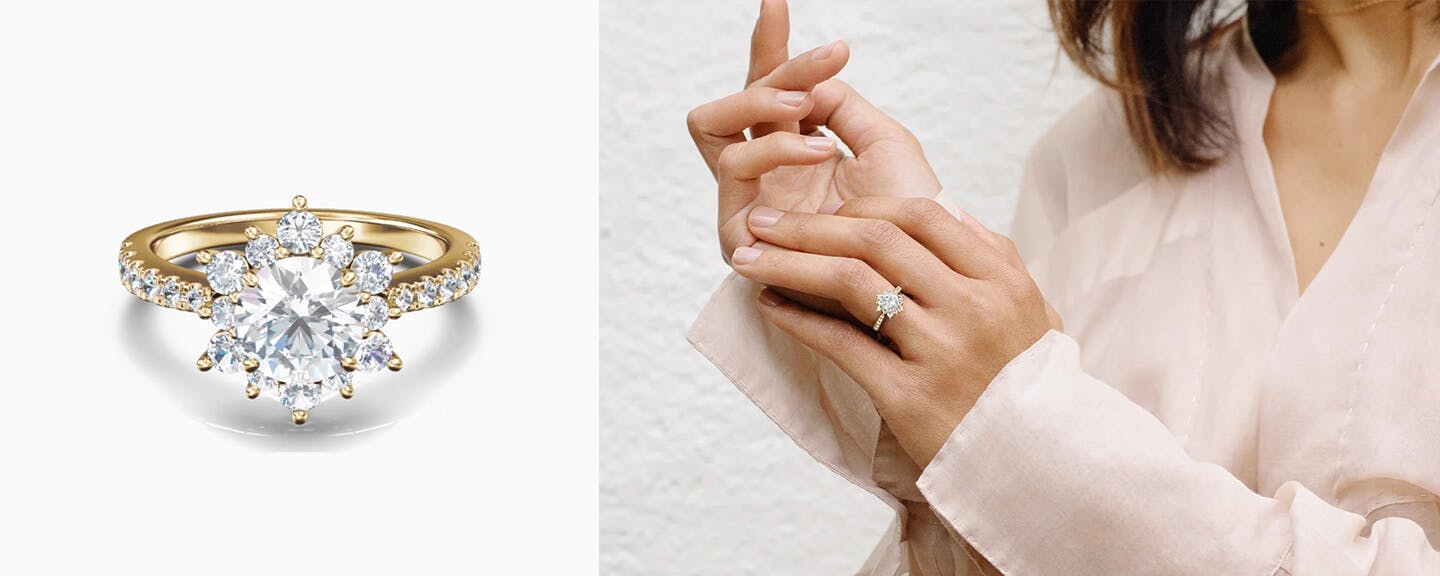 Three Stone
The three-stone setting is an elegant update of the solitaire setting. It features three diamonds, as its name implies. The largest is usually the center stone with two smaller stones flanking its sides. All three diamonds can be the same shape which creates a sophisticated, unified look, or the side stones can be different shapes from the center diamond creating a bolder, more modern take on the setting.
Regardless of the shapes you choose, this setting is designed to signify your past, present and future as a couple. With this poetic backstory, the three-stone setting takes on a deeper, more romantic meaning. There's no better choice for those who are looking to start the next chapter with a ring imbued with symbolism and significance. 
Depending on the diamond shapes and metal you choose, you'll find the three-stone setting can be a stunning classic or transform into a distinctive statement. There's plenty to customize to create a ring that's perfectly suited for your bride-to-be.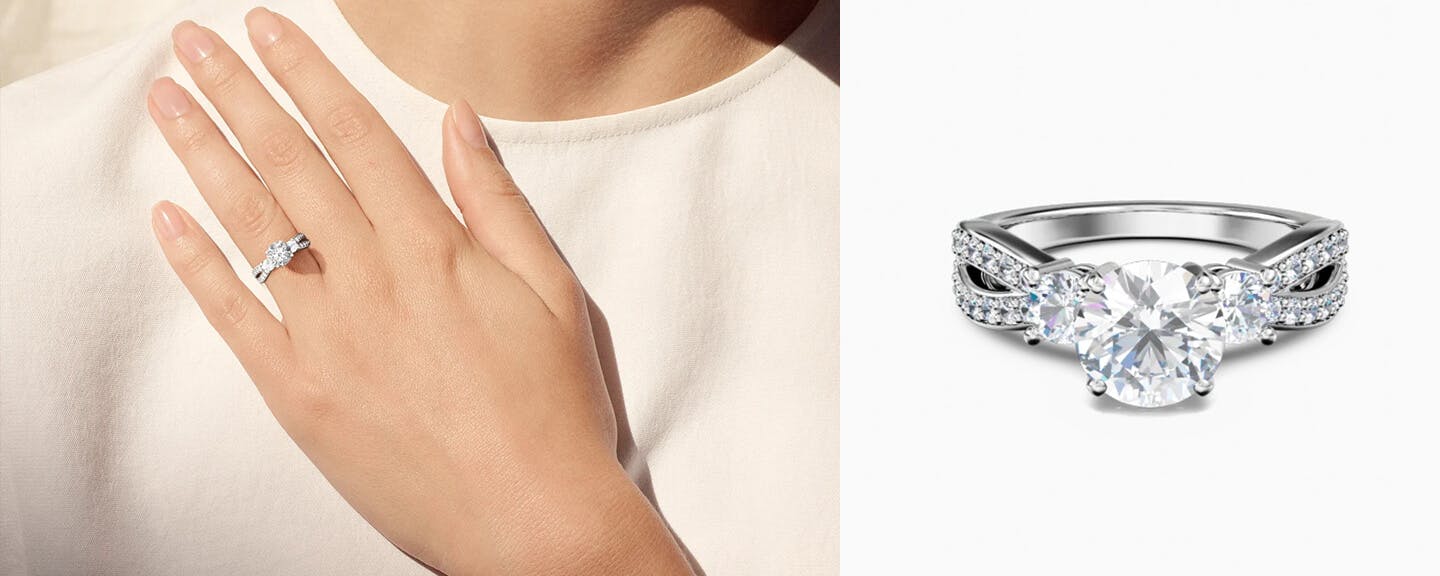 Modern
Our modern settings were designed to be unique yet enduring. In this collection, you'll find extraordinary, diamond-studded settings that are perfect for brides who desire a timeless engagement ring. In each of these settings, the center stone remains prominent, but the band brings style and flair. Micropave, accent diamonds and split-shank settings all bring extra personality to the ring.  Explore our wide variety of artistic stylings and exquisite detailing within our modern collection to find a bespoke ring fit for your bride.