How To Buy An Engagement Ring
You've found your perfect match, now it's time to find the perfect ring. We've laid out each step along the way to your perfect engagement ring.
You've talked to your friends, family, and maybe even your future spouse about it, and you're ready to take the next step in your relationship. But now you've come to the most intimidating challenge of all—buying the engagement ring.
There seem to be so many things to consider: what carat size to buy, where to shop, and how much to spend, among other things. The options are endless.
But there's no need to feel overwhelmed; we've created a comprehensive, step-by-step guide to engagement ring shopping. Our guide walks you through everything from price to style, so you can find a ring your future spouse will cherish for years to come.
Step 1: Determine Your Budget
It's helpful to determine a budget first so you can immediately narrow down your options.
According to The Knot's 2018 Real Weddings Study, engagement rings cost an average of $5,680. This may seem like a lot, but it's actually a decrease from 2017's average of $6,351. While these numbers can serve as a guide, you should look to your own lifestyle and income to determine how much you will spend on your loved one's ring.  
Most of us have heard of the two- or three-month salary rule. According to this idea, you should spend a couple of months of your salary on a ring. However, this idea is the result of a 1930s advertising campaign from the De Beers diamond company, and should not be considered engagement ring gospel.
It's best to examine your personal finances, determine how much you can save or have saved, then use that knowledge to choose the minimum and maximum amounts you'd like to spend. Remember: there will be beautiful rings within any price range.
Step 2: Discover Her Style (And Size)
This next step will take some spy-level maneuvering on your part—if you want the ring to be a surprise.

While your loved one is on an errand or still at work, look through her jewelry and see if she has any rings. If not, you can look at her necklaces or bracelets. Is her jewelry made mostly from a single metal? Is her jewelry colorful and bright? Does she seem to like older pieces as opposed to newer pieces?

If you don't feel confident about guessing your loved one's style alone, you can even take pictures of her jewelry to show the professionals at the supplier you choose. They should be able to help.

If she has some rings on hand that she doesn't seem to use often, feel free to take them with you to the jeweler so that he or she can determine her size, too.
Step 3: Pick a Band Style
Before you start shopping, you'll want to have three basics in mind: the band style, the rock type, and the setting. When choosing the band, you'll have three main considerations.
Metal: Bands typically come in gold, rose gold, and white gold (or platinum, or silver). Choose your color based on the jewelry you've seen your significant other wear. If he or she doesn't wear a lot of jewelry, stick to traditional metals, like gold or silver. Rose gold can be a daring—but romantic—choice.
Width: When choosing how thick the band will be, consider your loved one's hands. Are they delicate? Choose a thin band. Are they strong? Choose a wider band. If your loved one tends to wear chunky jewelry, no matter her hand size, she'll probably prefer a thicker band.
Decoration: Finally, choose whether you'll want a plain or decorated band. A decorated band, such as an entwined band or a pavé, can add some glamour to a smaller diamond, while a plain band can help a larger diamond and setting shine.
Step 4: Select A Diamond Type
Next, you'll want to think about the shape and 4 c's (carat weight, cut, color, and clarity) of your diamond.

Shape: You'll need to choose the shape of your diamond first, which has a lot to do with your loved one's style.
Round diamonds are the most traditional choice, and produce the most shine.
Princess diamonds are also popular, adding a tinge of angularity to the ring.
Cushion diamonds provide a regal appearance to any ring.  
Emerald diamonds can make a bold statement with their rectangular shape.
Marquise diamonds are striking, adding a stately look to your loved one's ring.
Oval diamonds are elongated, adding a twist to the traditional round look.
Pear diamonds have a unique, asymmetrical look.
Carat Weight: A carat weight can appear larger or smaller depending on its shape. For example, a one-carat round diamond will look smaller than a one-carat emerald diamond, due to the large face of the emerald shape. Keep in mind that by buying a lab-grown diamond, you can buy a higher carat weight for a lower cost.  
Cut: The "cut" of a diamond determines how brightly it shines and reflects light. Cut grades are only officially given to round diamonds, which are rated on a scale from poor to excellent. Fancy shapes are sometimes rated, but their cut can be judged by each individual.
Color:  "Color" mostly refers to the absence of color. Diamonds come in shades from Z (containing the most color) to D (colorless). While colorless diamonds are traditionally the most desired, some people enjoy the different shades diamonds can come in, like light yellow or pink.
Clarity: "Clarity" refers to the amount of inclusions and blemishes in a diamond. Every diamond has a different amount of flaws; these are graded from I3 ("included," or having the largest amount of flaws) to FL ("flawless," or having the least amount of flaws). Different shapes reveal flaws in varying amounts. In general, the higher level of clarity rating you choose, the less likely anyone will be able to spot a flaw.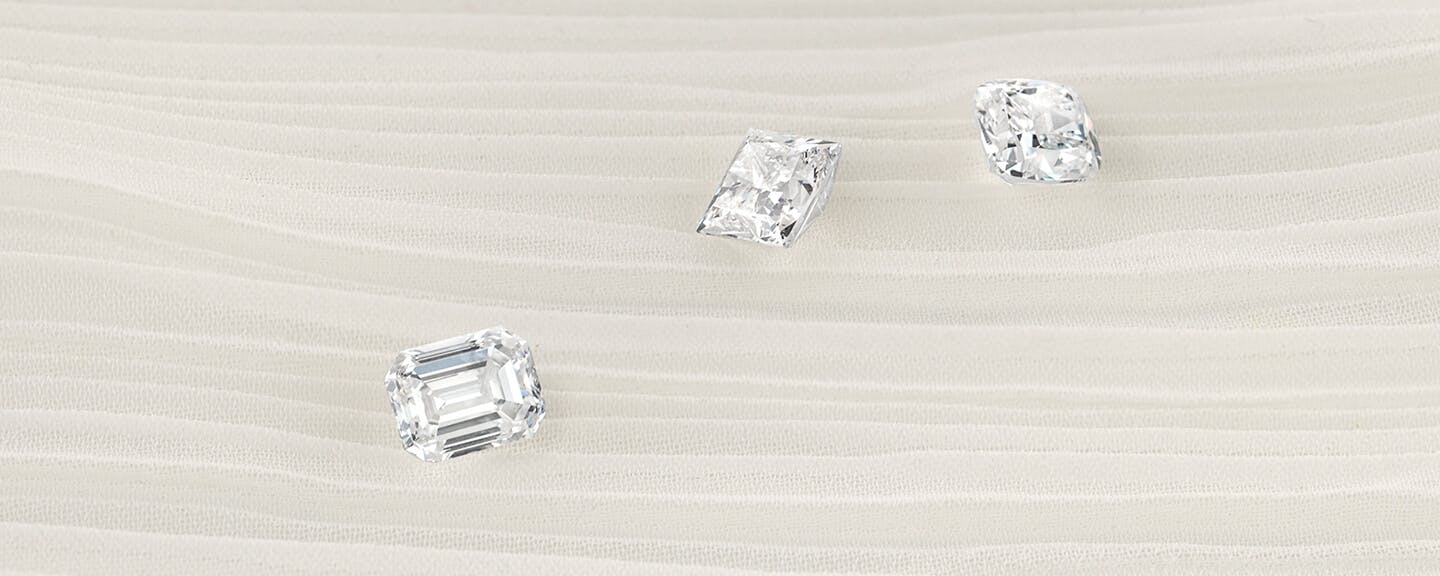 Step 5: Choose the Setting
Choosing the setting of the stone depends a lot on the rock you choose; the setting is what holds the diamond itself, and can be either simple or intricate.
Simple. Simple settings are sometimes preferred when paired with larger diamonds or fancy-shaped diamonds, so that the diamond can take the spotlight. The most common simple setting is a solitaire prong, which usually makes the diamond look as though it is protruding from the band.
Intricate. More intricate settings can make a smaller diamond look larger. For example, a small halo of diamonds around a center diamond can add a lot of sparkle for a low cost.
Step 6: Find a Jeweler
Once you know what kind of engagement ring you'd like, you'll need to choose where you'll purchase it.
Ready-made stores: Some stores, like Tiffany & Co., make pre-made diamond rings for you to select and purchase on the spot. While you may very well find the diamond that you've been imagining, these stores can offer limited options. However, if you aren't sure what you are looking for, ready-made stores can provide guidance.
Custom jewelers: Custom jewelers can help you turn your dream ring into a reality. While often pricey, these experts are a good choice if you have a large budget and a clear design in mind.
Online stores: Online diamond engagement ring suppliers offer some of the best prices and widest variety of choices available. They are often able to create the exact ring you want and at a price you can afford. Though in-person help is sometimes not available, these stores are well-equipped to answer your questions over email, text message, chat, or phone call.
Step 7: Confirm The Certifications
Before you've make your purchase, you'll want to review your diamond's paperwork.
Ensure that the diamond has a certification from an accredited laboratory such as the American Gem Society or the Gemological Institute of America. Otherwise, the ring's grades and values may have been inflated—making you to spend more for a less valuable diamond.
Step 8: Buy The Ring!
Once you've chosen the ring and confirmed the certifications, it's time make your purchase and prepare to present the gift to your future spouse.